Are you an adventurous eater? Japan is the source of some of the most unusual, inventive and downright strange foods in the world. Here are just some of the crazy Japanese foods you must taste in your lifetime.
1. Fried Chicken Cartilage
Fried chicken cartilage, known in Japan as nankotsu, looks a little bit like chicken nuggets. These small, deep-fried pieces do come from a chicken, but they have a distinctly different texture from the juicy meat you know and love. Instead, nankotsu has a bit of a crunchy texture inside. The outside batter typically features a bit of mild spice for flavor, while the dish itself is often served with a slice of lemon and a dipping sauce. Despite the resemblance to your favorite fried foods in the states, the flavor and texture of this dish makes it a unique experience.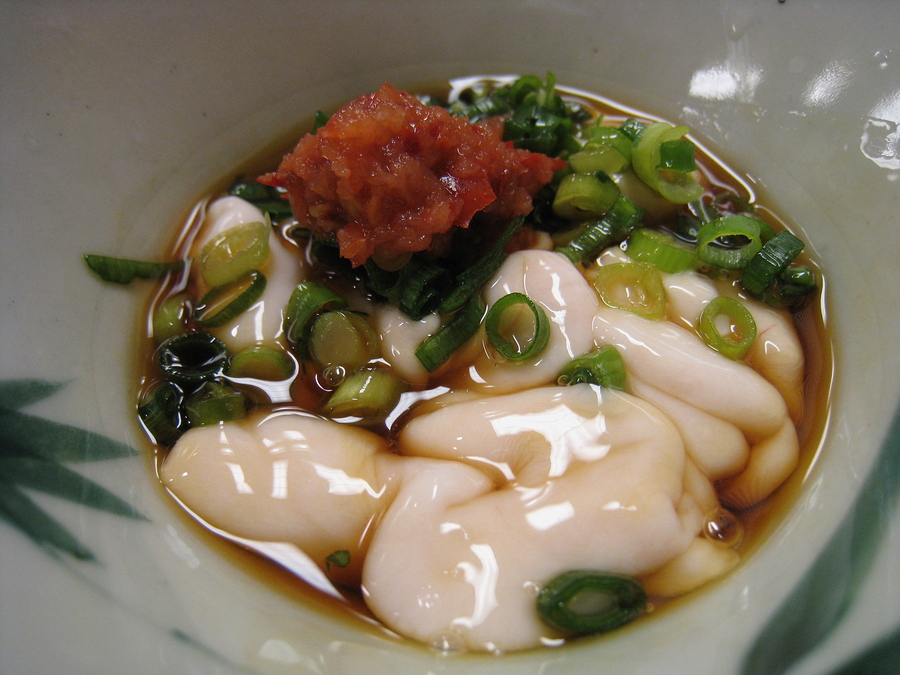 2. Cod Milt
Cod milt doesn't sound so bad—after all, fish is a pretty tame thing to eat, right? Well, in this case it's a very particularly part of the fish you'll be eating: the sperm sac. Cod milt is essentially cod semen, and while it sounds a bit unnerving, it's easier to stomach when you consider that it's the male alternative to caviar. Cod milt is prepared and served in various ways, such as steamed, tempura fried, deep fried, in a hot soup or dipped in ponzu sauce, all of which highlight the mild, creamy flavor. It's especially popular in Japan during the winter months.
3. Raw Horse Meat
This unique Japanese dish is foreign to Americans in more than one way. With the first two words being unfamiliar to most American palates, it's no wonder that this is considered an adventures dish to outsiders. Raw horse meat, which is called basashi in Japan, is typically prepared in thick slices and coated with soy sauce. Garlic or Japanese horseradish is often added for extra flavor. Unlike the way most Americans are used to consuming meat, it's served very cold to prevent bacteria from forming.
4. Live Sashimi
This dish is for the wildly adventurous and seriously strong-stomached eater in Japan. Live sashimi is prepared using a live fish, shrimp or lobster. The type of seafood being prepared is basically split open and then cut and served on top of the animal, which is essentially slowing dying in front of you. Those with a hankering for the best sashimi certainly can't top the freshness you'll get from eating it live, but it's a controversial practice, so it's not as widely available as other Japanese foods on this list.
5. Wasabi Beer
Forget about the light, refreshing beer you like to enjoy stateside. In Japan, there's a more interesting take on brewing that will have your taste buds feeling electrified with flavor. Made from the Japanese root, wasabi beer has a bitter and herbal taste that many would compare to a traditional IPA. Often green in color, this drink also has a bit of a spicy flavor to it, most of which is felt in the aftertaste. It may not be as cool to your tongue, but this drink certainly has more flavor (and heat) than your average beer.
6. Fermented Soy Beans
Known in Japan as natto, fermented soy beans are a staple in this Asian country. Despite the wacky foods listed above, many foreigners claim that this is the hardest food to acquire a taste for in Japan. Locally, it's considered something of a comfort food. Those who are not familiar with the dish, however, typically complain of the incredibly strong and unpleasant odor it gives off. Regardless, it's definitely worth a try if you want to eat like a local during a visit to Japan.
7. Unusual Junk Food
Japan is known for its highly unusual junk food. Those visiting from Western countries are often amazed by the selection of odd flavors and preparations available at markets and shops. Many seem like a strange take on traditional American snacks, while others are a unique creation in their own right. Here are just some of the unusual junk foods you can find in Japan:
Octopus ice cream: Other odd flavors include squid ink, soy sauce, miso ramen and eggplant.
Canned bread: Often served in vending machines as a yummy snack.
Jelly drinks: Featuring a gooey consistency and available in pouches or bottles.
Wasp crackers: Whole wasps baked inside a biscuit-like wafer.
Strawberry milk Pepsi: Other limited edition flavors include yogurt, ginger root, red bean paste and ice cucumber.
Green tea Kit Kats: Also available in wasabi, soy bean, ginger ale, red bean and buttered corn flavors.
Fried chicken Doritos: Other flavor variations include steak, fish eggs and salmon.
Whether you go all the way to Japan or make a trek to a special Asian market, enjoying these unique Japanese foods is probably a once-in-a-lifetime opportunity, so don't miss your chance to experience some new (and surprising) flavors.