Volunteering and giving back to your community is beneficial for both you and your neighbors. Check out this list of 10 easy things you can do to help make your home and neighborhood a better and more pleasant place to live.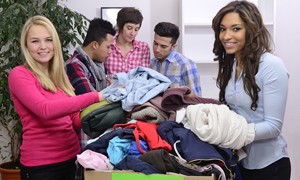 1. Clean Up Your Neighborhood
If you look at the side of the road while you're driving or taking a stroll, chances are you'll find litter. Help to clean up your neighborhood by just picking one day, weekend or however much time you want to commit to and going around and picking up trash. You can do it yourself, organize a group of friends or even get your whole block to help you out. And if your neighborhood is already pretty clean, volunteer elsewhere (such as a park) and help brighten up others' days.
2. Share Your Skills & Volunteer
Everyone has a skill that they can share with their community. Whether it's helping a child ride a bike or just being an ear for someone to talk to, everyone can volunteer in some way or another. If you're not sure where you can volunteer your services, check with churches, day cares, the YMCA and other community groups.
3. Organize A Clothing Sale
Everyone has clothing or accessories that they no longer use or can fit into. Why hoard it when you can give it to others who will use it. Go to your friends or family and gather up clothes and accessories that they no longer want. Put discounted and affordable prices on the items and sell them at a garage sale. With the money you've made, donate it to the charity of your choice. And with the remaining items you didn't sell, go to the next item on this list.
4. Donate To The Salvation Army And/Or Goodwill
Whether you're organizing a clothing drive or gathering up furniture around your house, the Salvation Army and/or Goodwill would love to take those items off your hands. These establishments are great for helping to give back to the community, by providing useful and discounted items to families who can't otherwise afford the items new.
5. Paint Over Graffiti
If you have a skill for painting, then you should share it with your community. In many areas across most cities, you will find graffiti art that can be negative in nature. If possible, use your skills to help rid it from the walls and paint over it, or even something beautiful such as a mural. Most likely because it is a beautiful piece of art, no one will want to paint over it. Just make sure to get permission from the owners of the property before painting over the graffiti. And if you don't want to paint, most cities have a hotline you can call and request the graffiti to be removed.
6. Visit A Children's Hospital
There is no bigger joy in the world than bringing a smile to a child's face. By visiting a children's hospital and spending time with these kids, you have the power to turn a potentially sad day into a great one. Whether you bring and donate toys or just spend time conversing with them, you'll seem like a superhero in their eyes.
7. Build a Home
There are many individuals and families out there who are not fortunate enough to have a home to call their own. You can help fix their situation by volunteering your time with an organization, such as Habitat for Humanity, and helping to build them a home with your own hands. It's okay if you don't have any construction background, as there is something for everyone to do when building a home.
8. Become A Mentor
There are many children out there who could use a positive mentor in their lives. Whether it's guiding them through the trials of everyday life or helping them with their homework, being a positive role model for a youth can have implications that will last with them for a lifetime. Find an organization, such as the Boys & Girls Club, if this is something that may interest you.
9. Shop Locally
Support your community by buying from your locally owned shops and businesses. Instead of buying coffee from the large national brand, try the brew from a small corner shop. When you're looking for some produce, buy some items from the small mom and pop grocery store instead of the large national chain.
10. Give Blood
By donating blood, you have the opportunity to save one or multiple lives. With shortages in blood at U.S. blood banks, this gesture will have a positive effect on your community almost immediately. To learn more about how to donate blood, contact the Red Cross or your local hospital.
By volunteering your time and materials, you have the potential to help your community in a very positive way. This list is just a short example of the things you can do to help, but a short Internet search or a conversation with friends and loved ones can lead you to other ways to volunteer in your community.