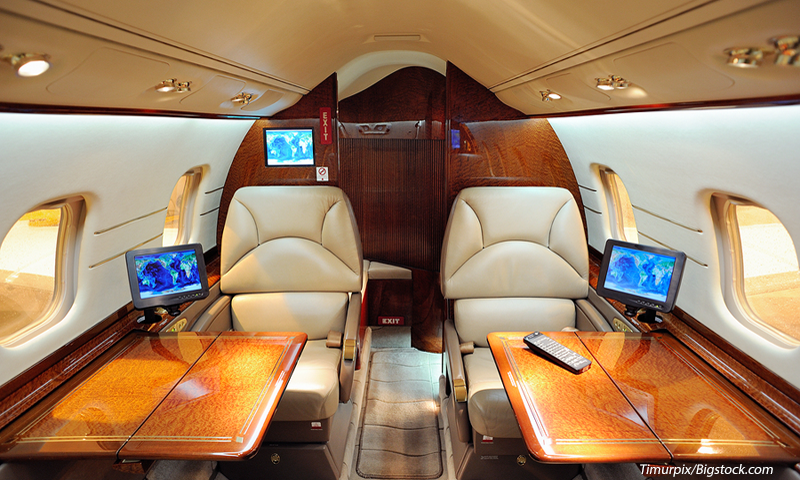 Want to hang with the high rollers? For that once-in-a-lifetime billionaire baller feeling, treat yourself to these lovely luxuries.
1. Ride In A Private Jet
Do you envy those bigwigs who get to fly wherever they want, whenever they want? It does sound pretty enticing to enjoy the luxury of air travel without the indignity of cramped seats, cranky passengers, crappy food and frustrated flight attendants. Imagine spreading out in a plush, leather seat, feasting on a delicious meal and enjoying the company of only those whom you want to travel with.
That's where the private jet comes in. Fortunately, you don't have to own your own plane to enjoy this experience. You can simply charter a jet to your destination. Prices start around $3,000-$5,000 for a short trip of a few hundred miles. Cross-country flights will have you looking at $10,000 or more, while a trans-Atlantic flight could cost over $20,000. It's a splurge, but it could certainly make a special trip more memorable, including honeymoons, anniversary trips and birthday getaways.
2. Order A $1,000 Bottle Of Champagne
If you're going to celebrate, why not do it in style? Popping a $1,000 bottle of champagne is a sure way to make any occasion more memorable. Plus, it will have you feeling like a total VIP.
Believe it or not, $1,000 isn't even the most expensive bottle of champagne out there. If you want to take this luxurious experience even further, go for an exclusive, small-batch champagne from a high-end vineyard, such as Bollinger Vielles Vignes 2004 ($1,090) or Krug Clos d'Ambonnay 1998 ($2,000).
3. Buying Box Seats For A Big Game
Whatever sport you follow, there's likely a major championship event you're dying to see. If you're going to attend, why not make it even more luxurious by getting box seats?
Of course, those special seats will cost you a pretty penny, but it's all worth it for this bucket list experience. Here are just a few examples of how much the best seats in the house could cost you:
World Series Game 7: $10,000
Super Bowl: $350,000
World Cup Final: $20,000
Stanley Cup Final: $10,000
Major boxing match (ringside): $100,000
4. Adding Bling To Your Tech Devices
A cool phone isn't a luxury anymore, especially since it seems like even middle school students are toting around the newest iPhone these days. So how can you make your tech devices look like those of a true baller? One word: bling.
From diamond-studded laptops to gold-plated phones, there's no limit to the ways you can make your favorite electronic devices feel like the hottest accessory. These devices will cost you, though – an iPhone plated in 24-karat gold, for example, sells for over $3,800.
5. Dining At World-Class Restaurants
If you're a foodie at heart, then your baller bucket list must include meals at some of the world's finest restaurants. In order to afford these taste bud-tantalizing meals, however, you may have to save up.
Here's a look at how much dinner could cost at some of the restaurants widely recognized as the best in the world (and if you plan to add wine, it'll be even more):
The Fat Duck: $300
The French Laundry: $250
Per Se: $300
Eleven Madison Park: $200
Noma: $175
Le Bernardin: $125
Geranium: $250
6. Staying In A Hotel Penthouse Suite
Staying in a hotel isn't always so luxurious. But if you shell out for the penthouse, the experience will instantly make you feel like you're a billionaire. The perks are simply unreal, with some of the most upscale penthouse suites featuring amenities like rooftop swimming pools, private gyms, dedicated butlers or even helicopter service.
So how much will it cost you? Expect to pay at least a few thousand per night for a penthouse suite at your average upscale hotel. If you go for some of the world's finest penthouse suites, you could pay more than $10,000, $25,000 or even $50,000 per night for this VIP experience. The world's most expensive option, the Royal Penthouse Suite at Hotel President Wilson in Geneva, costs $65,000 per night.
7. Go On the Vacation Of Your Dreams
Going all out for the trip of a lifetime may not be cheap, but it's certainly one of the most memorable ways to feel like a baller. These days, bespoke vacations are actually quite popular with the super-rich. Customized safaris, experiences diving with sharks and other adventurous activities are widely available if you have the cash to fund them.
The costs can vary widely for a dream vacation. A two-year-long, tailor-made vacation package that included visits to over 100 countries sold to one man for $1.5 million. For something more within reach, you could enjoy a weeklong luxury vacation to the idyllic islands of Fiji for around $10,000.
Even if it means saving up, experiencing just one of these unique VIP luxuries is sure to make you feel like a baller for life.