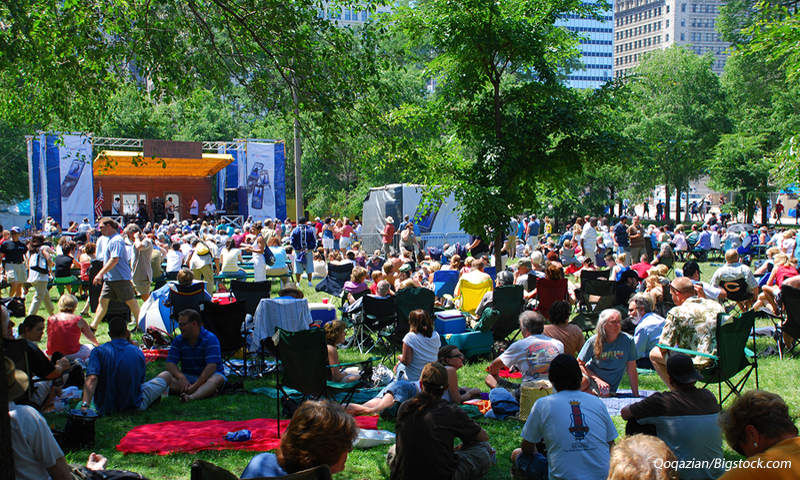 Concerts are fun, but there's something unique about the music festival atmosphere. Rather than a single performance, it's a mash of multiple stages, energetic fans and cool outdoor settings. Here are the top U.S. festivals for music lovers to add to their bucket lists.
1. Coachella Valley Music & Arts Festival
Held at Empire Polo Club in Indio, California each April, Coachella hosts a variety of music acts, including rock, indie, electronic dance music (EDM) and hip hop. Meanwhile, breathtaking, avant-garde art installations are located throughout the festival grounds. In recent years, Coachella has taken over as the must-attend concert for hip music lovers. Many celebrities attend dressed to impress in their hippest festival duds. The event also tends to secure performances from some of the most popular and iconic acts; recent appearances include Paul McCartney, Prince, Jay-Z, Madonna and Radiohead.
2. Lollapalooza
Though it began with humble indie roots, Lollapalooza is now considered one of the more mainstream music fests in the United States. However, it still attracts some of the biggest crowds as well as some of the biggest names in music. This is a massive fest that typically welcomes over 100 music acts. Like Coachella, the lineup tends to be diverse, with recent performers including Metallica, Skrillex, Sam Smith, Alabama Shakes and Eminem. Each August, the festival is set in Chicago's Grant Park, which affords incredibly unique views of glistening skyscrapers as well as the brilliant blue waters of Lake Michigan.
3. Bonnaroo Music & Arts Festival
This massive music festival, which is held each June at Great Stage Park in Manchester, Tennessee each June, hosts dozens of music acts each year. Though the festival initially focused on jam bands or folk rock acts when it was founded in 2002, it now hosts a greater variety of music styles. Notable acts from recent years include Pearl Jam, Kanye West, Neil Young, Phish, The Black Keys, Arcade Fire and Kings of Leon. Besides the great performers, Bonnaroo is also known for Tent City, the campgrounds where thousands of attendees camp out each night. The festival also hosts a variety of other activities, like a Ferris wheel, comedy acts and art installations.
4. WE Fest
Since 1983, this event held in Detroit Lakes, Minnesota has been regarded as one of the top country music festivals in the nation. Tons of attendees bring a tent or trailer and camp out right on the festival grounds each August. In addition to newer country acts like Miranda Lambert, Blake Shelton and Jason Aldean, the festival has also been known to bring in iconic country performers like Merle Haggard, George Strait and Tanya Tucker. Besides seeing the many music acts perform, another popular activity at this festival is the Karaoke Roundup, where attendees compete for the chance to perform at the festival.
5. South by Southwest
This festival, which you'll often see written as SXSW, is the festival that's least dedicated to music alone on this list. In fact, this annual March festival is a unique mix of film screenings, conferences, interactive exhibits, technology trade shows, and of course, music performances. However, it still manages to be one of the largest music festivals in the world, with over 2,000 performers at over 100 venues each year. It's generally seen as one of the best places to spot up-and-coming acts rather than catching nationally recognized performers. If you love being hip to the underground scene and like to see unique, creative acts, this is the festival for you.
6. Newport Folk Festival
Held in Newport, Rhode Island in July, this annual festival has been around for over 50 years. Back in the '60s, it had its true heyday thanks to the surge in folk music's popularity and appearances by legends like Johnny Cash, Muddy Waters and, of course, Bob Dylan. After a bit of a decline in the '70s and '80s, it slowly came back, and now it's more popular than ever thanks to mainstream acts like Fleet Foxes, the Avett Brothers, Mumford & Sons and the Decemberists. This fest is noted for its beautiful setting, which is set on a peninsula surrounded by clear blue water in Fort Adams State Park.
7. Electric Daisy Carnival 
Each June, Vegas plays host to this EDM-focused festival, where attendees are known to party 'til dawn. In addition to hosting over 100 artists, including major EDM acts like Avicii, Bassnectar and Diplo, this festival also welcomes hundreds of theatrical performers. The result is a fully immersive audiovisual experience that's part dance party and part interactive art installations.
Other Notable Music Festivals
Voodoo Music Experience – New Orleans, Louisiana
A3C Hip Hop Festival – Atlanta, Georgia
Austin City Limits Music Festival – Austin, Texas
Pitchfork Music Festival – Chicago, Illinois
Firefly Music Festival – Dover, Delaware
Vans Warped Tour – locations throughout the United States
Summerfest – Milwaukee, Wisconsin
Telluride Bluegrass Festival – Telluride, Colorado
Indulge your inner music lover by attending one of these major festivals in the United States. These multi-day experiences are sure to bring you good tunes and good vibes.