True high-rollers know that while platinum and gold cards may be special, there's nothing that beats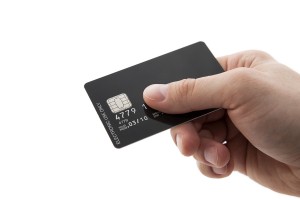 a Black Card. Perhaps the most exclusive charge card in the world, the American Express Centurion Card, better known as "the Black Card," offers some truly incredible cardholder benefits. But besides the great perks, it's also one of those status symbols just about everyone would like to have in their lifetime. Learn more about what makes the Black Card so unique and what special privileges are included.
What Is a Black Card?
The American Express Centurion Card was originally released in 1999. The idea for the card actually sprouted from a rumor that an American Express card with such exclusive standards was secretly held by a handful of extremely wealthy individuals. Though the card didn't exist, American Express capitalized on the rumor and created a card that was even more exclusive than their elite Platinum Card.
The card itself is made of anodized titanium and features a sleek black and white design. Previously, up to 99 authorized users were allowed per card. However, in recent years this has been changed to limit users to just two people per card. Personal and business versions of the card are available.
What Are The Perks?
When it comes to the Black Card, the benefits are simply amazing. Though the details are somewhat secretive for non-cardholders, access to these perks is said to be provided:
No spending limits: There's no pre-set spending limit with the Black Card. However, charges must be paid off in full each month since it's a charge card. Some reports state that cardholders have charged millions to their card for a single purchase.
24/7 dedicated concierge program: Whatever you need, your personal concierge is there to get it for you at any time of the day or night. From chartering a private jet to reminding you about your wedding anniversary, your concierge is on top of it. There are even rumors that one concierge went to the Dead Sea to collect sand for a cardholder's child's school project.
Premium travel status: Cardholders get automatic upgrades to the very best when they travel, including premium tier car rentals, hotel rooms and airline seats. The card also comes with complimentary companion airline ticket on international flights with the purchase of a full-fare ticket from select airlines. Extensive travel insurance is automatically provided for all trips booked with the card.
Personal shoppers: Upscale retailers, including Saks Fifth Avenue and Gucci, will provide complimentary personal shopping services upon request.
Elite club memberships: Cardholders are automatically enrolled in many elite membership programs, including Avis Presidents Club, Hilton Diamond status and Delta Platinum Medallion status.
Who Can Get One?
In order to qualify for this card, you'll have to meet some specific criteria. You must already use an American Express card and be an active cardholder for a minimum of one year. In addition, your spending habits must be on the lavish side since you'll need to charge at least $250,000 per year to be considered.
Credit and net worth can also play into a potential cardholder's chances of being approved for the Black Card. According to certain reports, the average Centurion Card holder earns over $1.3 million per year. Since less than .01 percent of Americans make that much, the potential applicant pool is extremely limited.
How Can I Get One?
Perhaps the most unique thing about Black Card is that you can't apply for it. Instead, American Express extends invitations to apply only to those who meet the criteria above. As mentioned above, Amex also considers a potential cardholder's credit and net worth before offering an invitation. Those who would like to receive an invite may be able to pull some strings if they regularly make large deposits with a private wealth banker that partners with American Express, but an invitation is still not guaranteed.
Are There Any Fees?
The elite few who are approved for this card must pay up for the privilege to flash such a special card. The one-time initiation fee is $7,500, and after that, cardholders must pay an annual fee of $2,500. The good news is that, since it's a charge card rather than a credit card, there is no interest rate you'll pay. Instead, fees will be applied if you don't pay off your balance at the end of each month.
Not To Be Confused With…
While American Express was the originator of the Black Card, Visa came out with their own version in 2008. Visa accepted applications from anyone, but the strict criteria made this card similarly exclusive.  As of July 2015, no new applications for the Visa Black Card are being accepted.
Clearly, the Centurion Card is the ultimate charge card for any affluent spender to own. Getting a Black Card makes you part of one of the most exclusive memberships in the world, so if you're dead-set on getting one, be sure to ramp up your spending habits on your Amex cards.