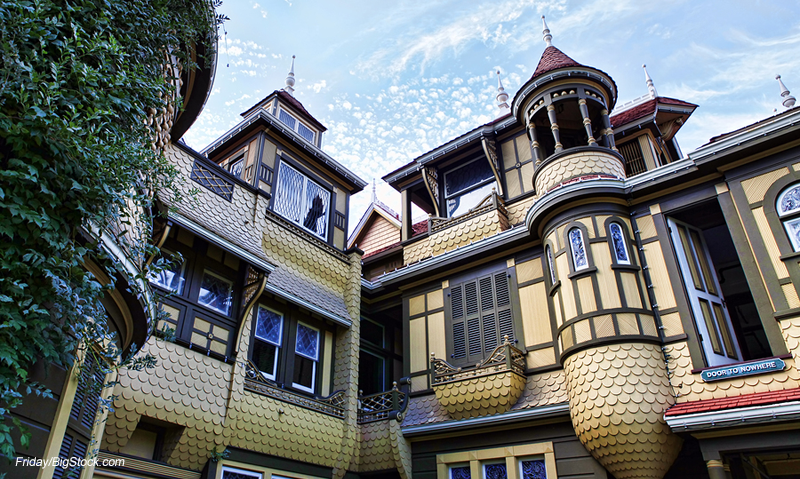 Who doesn't like a good scare now and then? If you're curious about haunted mansions and don't want to spend the time and effort to find a genuine ghost house, the five homes below not only have a strong reputation to be haunted, but they also have guided tours and are open to the public.
1. Winchester Mystery House – San Jose, California
One of the most famous mansions in the country, Sarah Winchester is responsible for the vision of this creepy home (pictured above). Winchester was the widow of gun magnate William Winchester and she believed the home was haunted by the ghosts of those who had been killed by Winchester rifles. It was said that Winchester would hold nightly seances to help give her direction on the building plans of the home so that she could confuse the spirits. Because of this, some rooms were constructed then ripped down almost immediately, staircases were built into the ceiling, among other strange concepts. To get a first hand look of the home, you can book a tour of the mansion almost any day of the year.
2. Lizzie Borden House – Fall River, Massachusetts
Not only can you visit this home, but you can even stay over night. That's right, the Lizzie Borden home has been converted into a bed and breakfast museum. If you're not familiar with the story, Lizzie was accused of killing her father (Andrew) and stepmother (Abby) in the home with a hatchet. She was later acquitted of the murders and continued to live in the town until her death. If you can't stomach staying all night in the home, you can also book a tour during the day.
3. Alcatraz Island – San Francisco, California
Just down the freeway from the Winchester Mansion is Alcatraz Island. Known for it's many appearances in movies and for harboring some of the nation's most dangerous criminals (Al Capone was one) for only three decades, many believe this island is haunted by some of the inmates who have died here. In the past, the island was off limits to the public, but now it has guided tours and people can hop on a ferry to see if it's haunted for themselves.
4. Whaley House – San Diego, California
Visit a historical landmark and haunted home in one trip. The Whaley House in San Diego is a California Historical Landmark that has been coined by some as the most haunted home in America. Located in Old Town San Diego, visitors have said that they can hear the heavy footsteps of James "Yankee Jim" Robinson, who had been hanged on the property. Others have said they have seen the apparitions of the previous homeowners, Thomas Whaley and Anna Whaley.
5. Bobby Mackey's – Wilder, Kentucky
Bobby Mackey's is not your typical haunted house. It's actually a nightclub. That's right, not only is it known by some as a gateway portal to hell, it's known to many locals as a regular country music bar. It was originally built in 1850 as a slaughterhouse and meatpacking facility and had a well in the basement where the animal blood and refuse from the slaughtered animals would be drained. After the slaughterhouse closed, many believed occultists would go to the basement to hold animals rituals. If you want to have a drink, listen to music and look for some evil spirits, this may be the place for you. If not, you can also schedule a tour.
If you're looking for a little road trip this Halloween, either one of these homes would be a good destination to put your belief in ghosts to the test.